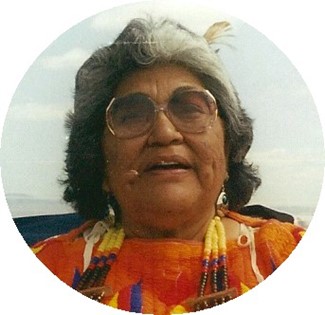 Lou Ella Big Knife
Mar 19, 1940 - Jan 20, 2011
Funeral services for Crowheart resident, Lou Ella Big Knife, 70, will be held 11:00 a.m., Wednesday, January 26th at Rocky Mountain Hall with Pastor Don Nemec of Wind River Lutheran Mission officiating. Interment will follow at Sacajawea Cemetery in Fort Washakie, WY.

Lou Ella died January 20, 2011 at Wyoming Medical Center in Casper, WY.

She was born March 19, 1940, daughter of Samuel L. and Dorothy (Barney) Nipwater.

She attended schools in Crowheart and Dubois and also attended CWC.

On December 23, 1964, Lou Ella married John Big Knife in Lander, Wyoming.

She worked as a bus driver for Headstart, as a CNA, Public Health Outreach worker, Community Health Representative for 25 years and was the 2010 Census Enumerator.

Lou Ella enjoyed beadwork, playing cards and handgames, going to the casino, listening to Indian music, attending pow-wows, attending grandchildren's activities, rodeos and traveling. She was also an excellent seamstress and moccasin maker.

She is a member of the Wind River Lutheran Church. She was a participant in the Shoshonean Reunion, One Shot Antelope Hunt and the Gift of the Waters. Mrs. Big Knife was also a member of the Eastern Shoshone Tribe.

Mrs. Big Knife is survived by her husband of Crowheart, son, Harley Big Knife of Riverton, daughters, Jodi L. Jorgenson and husband, Winston, Samantha Big Knife of Crowheart, and Janet Weed and her husband, Starr of Fort Washakie; 5 grandchildren, 7 great grandchildren, her dog Taffy; cousin, Nathaniel Barney,brother, Harold Ouray, brothers-in-law, Skychild Big Knife, Joe Big Knife and wife, Roberta, and Charles Big Knife; sisters and sisters-in-law, Lenora Knight, Evelyn Waterhouse, Leola J. Nagitsy, Angeline Wagon, Florence McLeod, Ivora Hill, Charlene (Lee) Perry, Anita Nipwater, Jean (Clement) Hobles, Mary (Joe) Merasty, Minnie Big Knife, Ruby Big Knife, Evelyn Big Knife, Alice (Paul) Littlehead, Marcia Segura and Barbara Barney.

She was preceded in death by her parents and grandparents, hiddo and Nana Barney and Charles and Nalrimee Nipwater. Also included, Angela Nipwater, Lorraine M. Nipwater, Rosalie M. Nipwater, Rita Alice Nipwater, Emma Ute, Floyd Nipwater, Leroy Russell Nipwater, Wayne Nipwater, Samuel Nipwater, Jr., Larry Dean Nipwater, Charles Nipwater, Uncle Perry Barney, nephew, Wayland Wetchie, Vida Stump, Lillian Wahtomy, Lawayne Hill, Geneva St., Clair, Shawn Ridley, Alfred Nagitsy, and Delphine Tarness.

On-line obituaries are available and condolences for the family may be made to: thedavisfuneralhome.com Services are under the direction of the Davis Funeral Home in Riverton.