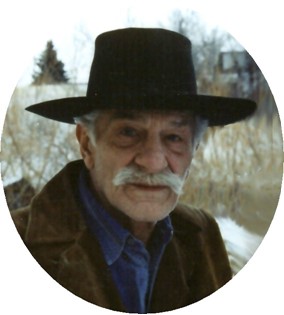 Antonio A. "Tony" Rubino
Apr 27, 1926 - Feb 1, 2011

Antonio A. "Tony" Rubino of rural Lander died Tuesday evening, Feb. 1, 2011, at the Lander Regional Hospital. He was 84.

According to his wishes, there will be no services. Cremation has taken place.

Antonio Angelo Rubino was born in New York City, N.Y., on April 27, 1926, the son of Italian Immigrants Thomas J. Rubino and Rose (Celsi) Rubino. He attended school in Westminster, Vermont, and Columbia University.

Mr. Rubino was of the Catholic faith.

Mr. Rubino served with the U.S. Navy from July of 1943 until July of 1946. He was Seaman First Class and participated in part of the Normandy Invasion. He earned the American Theater Medal, the Asiatic Pacific Medal, the European Theater Medal I Star, and the Victory Medal. Mr. Rubino also had a barbershop while in the Navy.

He was a professional artist by trade. He had two shows at a prominent galley in New York City in the 1960s. His family said Mr. Rubino's life was painting and sculpting and he experienced new things in life through his creative work.

Although he was a life-long artist, Mr. Rubino had also owned "Antonios" Italian restaurant in upstate New York.

He had worked as a lab tech at Cornell University, for 11 years where he met his future wife in 1978. On Nov. 13, 1979, he married Joanne Arlene Sweazey in Vermont.

The couple moved to Paris experiencing impromptu art shows and visited many art galleries. After returning to the states the couple decided to head west. They came to Lander from New York in 1987 in a pickup truck finding work at the Eagle Bronze Foundry in Lander as mold-makers.



The family said he enjoyed Italian cooking, photography, jewelry making, metal smithing from which he had a collection of silver-set knives, hunting, fishing, and stamp collecting.

He is survived by his wife of 31 years, Joanne Rubino, and numerous Rubino cousins.

He was preceded in death by his parents.

Memorials may be made to Little Wind Hospice, in care of the Davis Funeral Home, 2203 West Main Street, Riverton, WY 82501.

On-line obituaries are available and condolences for the family may be made at: thedavisfuneralhome.com

Services are under the direction of the Davis Funeral Home of Riverton.