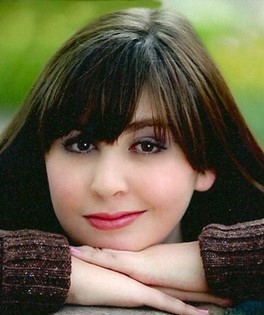 Sereah Lynn Carr
Feb 1, 1993 - Feb 23, 2011
Funeral Mass for Sereah L. Carr of Riverton is at 2 p.m. on Monday, Feb. 28, at St. Margaret's Catholic Church in Riverton. The Rev. Father Andrew Duncan officiates. Private family Inurnment will be at Mountain View Cemetery in Riverton at a later date. Friends are invited to join the family immediately following the service at the St. Margaret's Gymnasium for a reception.

A rosary is at 7 p.m. Sunday, Feb. 27, at St. Margaret's Catholic Church, with public viewing one hour prior to the rosary at the church.

Miss Carr died Wednesday afternoon, Feb. 23, 2011, at Riverton Memorial Hospital, following a two-vehicle accident on North Federal in Riverton. She was 18.

Miss. Carr was baptized into the Catholic faith.

Sereah Lynn Carr was born in Spearfish, S.D., on Feb. 1, 1993, the daughter of Aaron Lee Carr and Michelle Lee (Delp) Carr. The family moved to Riverton in 2003. The Carr family lived in Gordon, Chadron, and Hay Springs, Neb., before coming to Riverton.

She was a senior at Riverton High School, taking dual-credit courses through Central Wyoming College. She planned to attend CWC for a year after graduation and transfer to the Univ. of Wyoming majoring in Political Science and Foreign Language. She also planned on pursuing her Ph.D. at Harvard.

In high school she was involved in speech, drama, was vice-president of the Environmental Club, member of the CAN Club, president of the senior class and a student council member. Sereah lettered in speech, debate, and drama. She was an honors student, lettering academically and would have graduated with sufficient credits to place her in her sophomore year of college. Sereah recently received a high unit score award at 2011 We The People state competition.

Sereah was the unsung hero of the RHS Drama department. She was the stage manager for two of the main stage productions that won honors at state drama in 2009 and 2010. Sereah won All-State drama honors in 2009. She had a leading role in both the 2009 and 2010 Group Performance Art productions. Sereah also portrayed Grandma Josephine in Willy Wonka and the Chocolate Factory performed in Spring 2010. Sereah was instrumental in keeping everyone organized and focused during play productions.

Sereah will be remembered vividly by friends and classmates for her ability to debate her point. She had phenomenal success in speech and debate. She was a state finalist in the Original Oratory event in 2010. During the current speech and debate season she was a finalist at every tournament, most recently winning the Original Oratory event at the Jackson Hole meet. Sereah had just returned from an oratory competition at Harvard University.

Her family said she enjoyed spending time with her friends in the speech and debate club, reading, spending time with her family, loved her poodle "George," and assisted in taking care of her disabled brother Eddie every day.

Survivors include her parents, Aaron and Michelle Carr of Riverton; grandparents, Marty and June Delp of Rapid City, S.D., and Phyllis Lynn of Belle Fourche, S.D.; brothers, Zakk Carr of Rapid City, and Elijah and Eddie Carr of Riverton; a sister, Asia Lee Carr; a newborn niece, Klover, whom she was looking forward to meeting in March; aunts and uncles, Elizabeth and James Davis, Jared and Michele Carr, Chad and Jessica Carr, Tobias and Jackie Carr, Melissa Carr, Walt and Laura Delp; and numerous cousins.

Memorials may be made to the Riverton High School Drama / Speech/ Debate Club in care of the Davis Funeral Home, 2203 West Main Street, Riverton, WY 82501.

On-line obituaries are available and condolences for the family may be made at: theDavisFuneralHome.com

Services are under the direction of the Davis Funeral Home of Riverton.