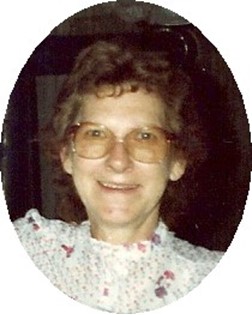 Joann Schooner
Nov 30, 1933 - Feb 24, 2011
Joann Schooner of Riverton died at Wind River Healthcare in Riverton Thursday evening, Feb. 24, 2011, at the age of 77.

Funeral services will be Wednesday, March 2nd at 2:00 p.m. in the Davis Funeral Home. Burial will follow at Mountain View Cemetery. Pastor Linda Norris will officiate.

Ermine Joann Overmire was born in Tontogany, Ohio, on Nov. 30, 1933, the daughter of David Edward Overmire and Mary Idella (Dull) Overmire. She was graduated from Tontogany High School with the Class of 1951.

She married Myron Scott Schooner on Dec. 27, 1951, in Angolia, Ind.

The family came to Riverton in 1966.

Mrs. Schooner was a cook who had worked at Chopping Café, the Trailhead, and Airport Café.

Her family said Mrs. Schooner enjoyed fishing, sewing, crocheting, and her grandchildren.

She is survived by two sons, Michael A. Schooner and his wife Susan, and Kip D. Schooner; a daughter, Cheryl S. Bruner and her husband Charles; 15 grandchildren and 23 great grandchildren; a sister, Rose Mary Gibson.

Mrs. Schooner was preceded in death by her parents, her husband, and four sisters.

Memorials may be made to the American Cancer Society in care of the Davis Funeral Home, 2203 W. Main Street, Riverton, WY 82501.

On-line obituaries are available and condolences for the family may be made at: theDavisFuneralHome.com

Services are under the direction of the Davis Funeral Home of Riverton.