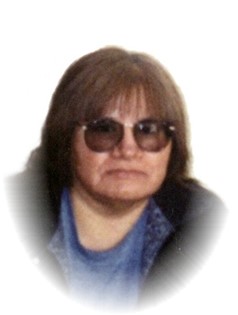 Alberta Duran
Jun 6, 1955 - Mar 8, 2011
Funeral services for Alberta "Bird" Duran of Arapaho are at 10 a.m. on Friday, March 11, at St. Stephen's Catholic Church with Catholic clergy officiating. Interment follows at the Arapaho Catholic Cemetery at St. Stephen's. Rosary is at 7 p.m. on Thursday, March 10, at St. Stephen's with a wake to follow at the home of Bill Bitterroot at Beaver Creek.

Mrs. Duran died in Riverton on Tuesday, March 8, 2011, at the age of 55.

Alberta C'Hair was born in Riverton on June 6, 1955, the daughter of John and Amelia Nina (Hardman) C'Hair. She attended elementary school at St. Stephens and high school in Chilocco, Okla., Wyoming Indian High School at Ethete, and Rosebud, S.D.

She married Claude Lee Duran, Sr., in Lander on Oct. 7, 1992, and lived most of her life on the Wind River Reservation at Arapahoe, on the Arapaho Ranch, and in St. Paul, Minn.

Mrs. Duran was a housewife and a teacher's aide at St. Stephen's and the Arapahoe School.

She was of the Catholic faith.

Her family said Mrs. Duran liked to go to the casino, be with her children, grandchildren, nieces, and nephews, go to the sundance, attend peyote meetings and sweats and attend basketball games.

Survivors include her husband, Claude Duran, Sr.; sons, Tomas Bear Ybarra, Jr., Norman John Ybarra, Lamar Duran, Sr., Claude Duran, Jr., and his wife Amber, and Shado Duran; daughters, Johnna Moss, Amelia Redfield, Sophie Divers, Jolene Hubbard and husband Julian, MaKayla C'Hair, Marilyn C'Hair; 39 grandchildren including granddaughters whom she raised, Mary Alianna Duran; great grandson, Kaiden Moss; brothers, Gary C'Hair, John C'Hair, Mitchell C'Hair, Sr., Hardman Dicky, Jude C'Hair, Raymond C. C'Hair, Charles Piper, and Gilbert Piper; a brother-in-law, Medrick Moss; friends, Joan Sage, Claudine SunRhodes, Juanita Borden; sisters, Vera C'Hair, Rochelle C'Hair, Rose Marie C'Hair, Julie Quiver Whiteman, Ida Monroe and husband Wesley, Sharon Bell, Pauline Oldman, Sadie Bell and husband Duane, Emma C. Moss and Nelson, Sr., and families Hubbard, SunRhodes, Moss, Duran, Divers, and C'Hair.

She was preceded in death by her parents, John and Amelia C'Hair; sons, Dakota Lee Duran, Neil Blaze C'Hair; a brother, Robert C'Hair; sisters, Sophie, Cordelia, Dawn C'Hair, Mary F. Duran, Wilma R. Moss; grandson, Bradley Moss; uncles, Joseph C'Hair, and William Duran.

On-line obituaries are available and condolences for the family may be made at: theDavisFuneralHome.com

Services are under the direction of the Davis Funeral Home of Riverton.