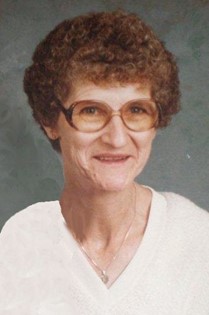 Edna VanHouten
Apr 6, 1924 - Mar 21, 2011
Graveside services for former Riverton resident Edna A. VanHouten of Denver, Colo., are at 10 a.m. on Thursday, March 24, at Mountain View Cemetery in Riverton. Pastor Rex Whitman officiates.

Mrs. VanHouten died at the Aurora Medical Center in Colorado on Monday, March 21, 2011. She was 86.

Edna Audry Busby was born in Pringle, S.D., on April 6, 1924, the daughter of Charles and Della (Anderson) Busby. She grew up in Busby Canyon, S.D.

She married Clayton VanHouten in South Dakota on Dec. 2, 1940.

Mrs. VanHouten was a cook in the food service industry, working for various local restaurants and handling the concession stand at the Riverton stock car races. She also worked as a dog groomer.

She was of the Baptist faith.

Her family said Mrs. VanHouten was an avid bowler, loved to knit and crochet, was always cooking and passed on her skill and recipes to her family, did volunteer baking for school events, the senior center, and golf club tournaments, and always had pets.

Survivors include sons, Donald VanHouten and his wife Karen of Sheridan, Ronald VanHouten and his wife Heidi of Wisconsin, Clayton VanHouten and his wife Carol of Laramie, and Loren VanHouten of Casper; daughters, Darlene Morton and her husband Bruce of Jacksonville, N.C., Charlene Connors of Las Vegas, Nev., and Cindy Oswald and husband Larry of Oregon; 22 grandchildren and 25 great grandchildren.

She was preceded in death by her parents, her husband, three sisters, and three brothers.

On-line obituaries are available and condolences for the family may be made at: theDavisFuneralHome.com

Services are under the direction of the Davis Funeral Home of Riverton.