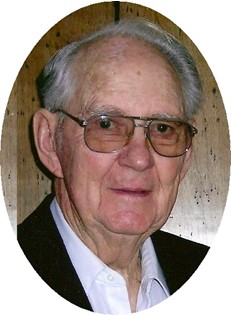 Billy Bob Pierce
Mar 30, 1927 - Apr 1, 2011
Billy Bob Pierce, a long-time Riverton jeweler, died at his home in Riverton on Friday morning, April 1, 2011. He was 84.

Funeral services were Monday morning, April 4, at the Hillcrest Baptist Church in Riverton with Pastor Mike Smith officiating. Interment followed at Mountain View Cemetery in Riverton.

Viewing was Sunday evening, April 3, at the Davis Funeral Home of Riverton.

Billy Bob Pierce was born on March 30, 1927, in Jermyn, Texas, the son of Allen Akard and Lois Chester (Sheppard) Pierce. He attended school in Jermyn and Jacksboro, Texas, and watchmaking school in Wichita Falls, Tex.

He married May Dell Rhodes on Dec. 25, 1947, in Jacksboro, Texas. They moved to Riverton in 1960.

Mr. Pierce was an active member of the Hillcrest Baptist Church in Riverton for 51 years, where he served as a deacon for 12 years and as R.A. leader.

He owned Pierce Jewelry from 1964-1993, when he retired to farming, gardening, hunting, and fishing.

Mr. Pierce is survived by his wife, May Dell of Riverton; a son, Jerry Pierce and his wife Sue of Libby, Mont.; two daughters, Linda Young and her husband Clyde of Lander and Barbara Carter and her husband Mike of Graham, Texas; 15 grandchildren, three step-grandchildren, 16 great grandchildren, and four step-great grandchildren; a brother, Gene Pierce and his wife Sherry of Gordon, Texas, and a sister, Virginia Burt of Graham, Texas.

He was preceded in death by his parents, an infant sisters, and granddaughter, Tina LaRae Wanner.

Memorials may be made to the Help for Health Hospice Home or Hillcrest Baptist Church, in care of the Davis Funeral Home, 2203 West Main Street, Riverton, WY 82501.

On-line obituaries are available and condolences for the family may be made at: theDavisFuneralHome.com

Services are under the direction of the Davis Funeral Home of Riverton.