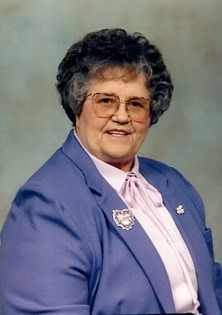 Vera I. Williams
Nov 23, 1922 - Apr 16, 2011
Former Dubois resident Vera I. Williams, 88 of La Grande, Oregon, died on Saturday, April 16, 2011, at the Grande Ronde Hospital in La Grande.

Funeral services are at 11 a.m. on Saturday, April 23, at Loveland Funeral Chapel in La Grange, preceded by a viewing from 8:30 to 9:30 a.m.

Interment will be in the Dubois Cemetery at 1:00 p.m. on Saturday, April 30.

Vera Irene Taylor was born on Nov. 23, 1922, in Edgar, Neb., one of 12 children of James Edward and Elizabeth Mae (Campbell) Taylor. She grew up in Alamena, Kan.

On May 15, 1943, she married Manly Williams of La Grande, Oregon, and they made their home there until 1963 when they moved to Wyoming where Mr. Williams was employed in the logging industry. After his death in 1987, Mrs. Williams returned to La Grande to be closer to family.

Her family said Mrs. Williams enjoyed knitting, canning, mountain drives, reading, and puzzles.

She was a member of the Nazarene Church, Order of the Eastern Star, Grange, and Tops.

Mrs. Williams is survived by her son and his wife, Eugene and Peggy Williams of Prairie City, Oregon; her sister, Della McLure of Indiana; four grandchildren, eight great grandchildren, and many nieces and nephews.

She was preceded in death by her husband, Manly Williams; her parents, and 10 siblings.

On-line obituaries are available and condolences for the family may be made at: theDavisFuneralHome.com

Local arrangements are under the direction of the Davis Funeral Home of Riverton.