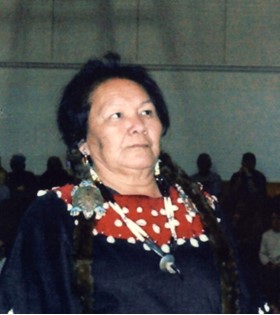 Geraldine A. "Deenie" Shakespeare
Jan 28, 1934 - Apr 18, 2011
Funeral services for Gearldine A. "Deenie" Shakespeare of Arapahoe are at 10 a.m. on Monday, April 25, at St. Stephen's Catholic Church. Interment follows at the Spoonhunter Cemetery on 17 Mile Road.

Rosary is at 7 p.m. on Sunday, April 24 at St. Stephen's Catholic Church with a wake to follow at Jessica Guffey Residence, 929 17 Mile Road.

The Rev. Fathers John Gaffney and Tony Blount.

Mrs. Shakespeare died at the Arapaho Ranch on Monday evening, April 18, 2011. She was 76.

Gearldine Angela Spoonhunter was born on Jan. 28, 1934, at Arapahoe, the daughter of James Francis Spoonhunter and Marguerite Agnes (Warren) Spoonhunter. She was a life-long resident of the Wind River Reservation and of 17 Mile Crossing. She attended St. Stephen's School where she played basketball, graduated from Riverton High School, and attended Haskell Indian Jr. College in Lawrence, Kansas.

She was the BEST cook at the Arapaho Ranch for 24 years. Prior to that, she had worked 12 years with Martha Dale at the Thunderbird Motel, and six years at the Pioneer Nursing Home in Thermopolis.

Geraldine was of the Catholic faith and followed traditional beliefs.

Her family said she enjoyed beading, dancing at pow-wows, reading, sitting on her swing sipping coffee, cooking, and riding horses.

Survivors include a son, Gerald Dyer "Kio" Shakespeare; daughters, Sandra "Sam" Shakespeare, and Cynthia "Frank" Shakespeare; four grandchildren, , Karl Whiteplume, Samuel Whiteplume, Rolinthunder Jessepe, and Duane Shakespeare; 10 great grandchildren; brothers, George Spoonhunter and Marty Spoonhunter; sisters, Frances Spoonhunter, Charlene Hoover, Marge St. Clair, Joan Spoonhunter, Dee Cuch, and Agnes Logan; several aunts, uncles, and cousins.

She was preceded in death by James Francis and Marguerite Spoonhunter, Roy and Angela Spoonhunter; Ben and Pauline Warren, Therodore Adam Spoonhunter, Bob Spoonhunter, Marian Guffy; a brother-in-law, Ray Logan; Kara Lynn Guffey, Kaileigh St. Clair.

On-line obituaries are available and condolences for the family may be made at: theDavisFuneralHome.com

Services are under the direction of the Davis Funeral Home of Riverton.