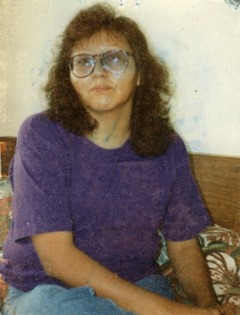 Edna Washington Antelope
Nov 26, 1962 - May 10, 2011
Funeral services for Edna W. "Eddie" Antelope of Arapahoe are at 10 a.m. Thursday, May 12, at St. Stephen's Catholic Church. Interment follows at the Arapaho Catholic Cemetery at St. Stephen's.

Rosary is at 7 p.m. Wednesday, May 11, at St. Stephen's. A Wake will follow at the family home, 406 Left Hand Ditch Road.

Mrs. Antelope died at the Wyoming Medical Center in Casper on Saturday, May 7, 2011. She was 47.

Edna Washington was born in Riverton on Nov. 26, 1962, the daughter of Otto and Lucille Marie (Dewey) Washington. She was a life-long resident of the Wind River Indian Reservation, having graduated from St. Stephen's Indian School with the Class of 1982.

Mrs. Washington was a homemaker, having married Terrence White Antelope on Nov. 8, 1984, at St. Stephen's.

She was of the Catholic faith and member of the St. Stephen's Catholic Church.

Survivors include her husband, Terrance White Antelope of Arapahoe; sons, John Matthew Antelope, Sr., Terrance Michael Antelope, Steven Brandon Antelope, Vincent Shawn Washington, Issac John Washington, Victor Wade Addison, Alvin Talksdifferent, Brindin White, Jordan Barazza, Kayle Washington, Gavin Hannah, Chris McCarson, John Euran, and Shae E. Duran, Joey Crazythunder, Mike Takesenemy, Cordell Washington, Gavin Hannah; grandson, Kayden WhiteAntelope; daughters, Rosalynn Amanda Antelope, Andrea Kay Antelope, Shanell Friday, Katharina Hannah, Arron Arthur, and Shasta Euran, Bethany Washington, Mabette Washington, Gayla Washington, Kimberly Washington, Kelsey Washington, Claudia Washington, Joeli Crazythunder, Olivia Washington, Shayanne Stewart, Francine Washington, Quintiana Hannah, and Sophia Dewey; brothers, Issac and Viola Washington and Francis and Margaret Washington, Paul Bell, Stanford Washington; sisters, Irene B. and Joe Crazy Thunder, Billie Ann Shangreaux, Deloris Takesenemy, Angus and John Doyle, Mary Addison Dewey, and Twila Dewey.

She was preceded in death by Otto Washington, Lucille Dewey Washington, Isiah James Antelope, Micheal Washington, Vincent D. Washington, Steven Washington, John M. Antelope, Jr., William Otto Antelope, Charlie Otto Washington, James "Jimmy" Washington, Kathleen Joe Washington, Margret Washington, Jayven Talksdifferent, Laura Dewey, Linus Dewey, John C. Dewey, Joanne Birdshead, Joe Bushyhead, and Angie Takesenemy, SnowSheild Talksdifferent, and Elena Frazier.

On-line obituaries are available and condolences for the family may be made at: thedavisfuneralhome.com

Services are under the direction of the Davis Funeral Home of Riverton.