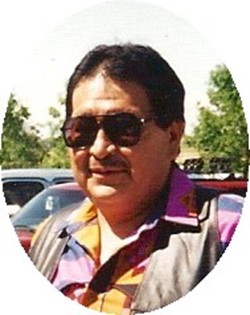 Howard Spoonhunter
Apr 3, 1953 - May 11, 2011
Funeral services for Howard Spoonhunter of Arapahoe are at 10 a.m. on Wednesday, May 18, at St. Stephen's Catholic Church south of Riverton. Interment follows at the Arapaho Catholic Cemetery at St. Stephen's.

The rosary is at 7:30 p.m. on Tuesday, May 17, at Great Plains Hall at Arapahoe with a wake to follow at the family home, 325 Great Plains Road, Arapahoe.

Mr. Spoonhunter died at the Wyoming Medical Center in Casper on Wednesday, May 11, 2011. He was 58.

Adam Howard Spoonhunter was born in Thermopolis on April 3, 1953, the son of Ward and Margaret (Gambler) Spoonhunter. He was a member of the Arapaho Tribe and grew up on the Wind River Indian Reservation.

He was graduated from Riverton High School after which he moved to Montana and also lived in South Dakota, returning to Arapahoe in 2000.

Mr. Spoonhunter was a health representative for the Shoshone and Arapaho Tribal Senior Health Program. He served for 20 years as a police officer for the Bureau of Indian Affairs in Montana and South Dakota, ultimately becoming a criminal investigator before retirement.

He was married to Sarah Belt in Sheridan in 1999. They divorced in 2007.

Mr. Spoonhunter was of the Catholic faith and attended St. Stephen's Catholic Church.

His family said he enjoyed going to the casino, being with family and friends, watching Western movies, and reading.

Survivors include sons, Adam Spoonhunter, Ryan Spoonhunter, and Mitchel Hollowhorn; a daughter, Carol Spoonhunter; brothers, Alfred Spoonhunter, Sr., Poncho Lonedog, Charles Manderson, Burton Hutchinson, Harvey Spoonhunter, Marlin Spoonhunter, Theron Spoonhunter, and Terry Spoonhunter;sisters, Alice Moss and her husband Leonard, Sarah Black and husband Lyle, Laura Shakespeare, Tilley Jenkins, Alrita Talksdifferent, Bernice Miller, Florence Trosper, and Shanna Lessert; extended family from California, Montana, and South Dakota.

He was preceded in death by his parents; a son, Alvin Spoonhunter; a daughter, Nancy Spoonhunter; J 'Shon Sandcrane; a brother, Stanley Spoonhunter, Sr.; nephews, Dean and Jerry Moss, Darwin Spoonhunter, StanleySpoonhunter, Jr., Howard Spoonhunter, Jay Dean Spoonhunter, Mike Spoonhunter, Alfred "Griz" Shakespeare; nieces, Annette Moss Addison and Wardina Spoonhunter.

On-line obituaries are available and condolences for the family may be made at: thedavisfuneralhome.com

Services are under the direction of the Davis Funeral Home of Riverton.