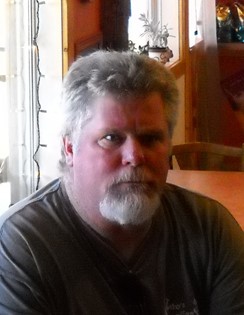 Ruel Kenneth Cobb
Feb 2, 1959 - May 12, 2011
Ruel Kenneth "Kenny" Cobb died at his home in Dubois on Thursday, May 12, 2011, at the age of 52.

Memorial services are at 2 p.m. on Friday, May 20, at the Headwaters Center in Dubois. Melinda Bobo will officiate. Cremation has taken place.

He was born on Feb. 2, 1959, was graduated from Marina High School and attended Orange Coast College.

He lived in Huntington Beach, Calif., for 32 years and came to Dubois 20 years ago.

On March 20, 2005, he married Kathryn Irene Yakima in San Francisco, Calif.

Mr. Cobb was of the Protestant faith.

He had worked as a bus boy at Senor Frog in Westminster, Calif., at Ralph's Grocery Story, worked in boat building, built kitchen cabinets, worked as a ranch hand at the Thunderhead Ranch out of Dubois, was a carpenter, and self-employed contractor.

Mr. Cobb served with the Fremont County Emergency Medical Services and was a volunteer with the Dubois Fire Department.

His family said he enjoyed hiking, fishing, ATV'ing, woodworking, and loved Nascar, especially the Ups car.

Survivors include his wife, Kathryn I. Cobb of Dubois; a daughter, Sarah Janella Cobb; his parents, Ruel and Arleen Cobb; brothers, Mark Allen Cobb and Monte Wayne Cobb, and a sister, Tawnia Jill Knapp.

On-line obituaries are available and condolences may be made at: theDavisFuneralHome.com

Memorials may be made to the Fremont County EMS in care of the Davis Funeral Home, 2203 W. Main Street, Riverton, WY 82501.

Services are under the direction of the Davis Funeral Home of Riverton.