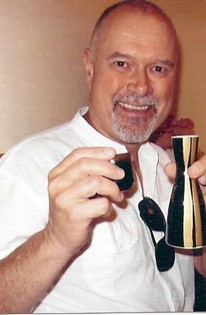 William "Bill" Donelson
Jun 12, 1955 - Jul 3, 2011
William L. "Bill" Donelson of Riverton and formerly of Centennial, Colo., died on Sunday, July 3, 2011, at Misawa Air Base, Japan.

Cremation has taken place. A memorial service will be Saturday, September 3, 2011, 10:00 a.m. at the Davis Funeral Home of Riverton, followed by inurnment at Mountain View Cemetery in Riverton.

A memorial service/celebration of life will be held at 10 a.m. on Tuesday, July 26, at the Bear Valley Church in Lakewood, Colo.

William Lee Donelson was born on June 12, 1955, to Mary Belle (Gardner) Donelson and Richard N. Donelson in Riverton.

He was graduated from Riverton High School in 1973 and the University of Wyoming in 1977 with a degree in accounting. At the university he was active in Sigma Chi fraternity, Young Republicans, and collegiate 4-H. During college, he spent one summer in Washington, D.C., where he was an aide to U.S. Sen. Clifford Hansen. His family said this started his love of travel and, over the years, he was able to travel across most of the United States, South America, and Russia.

Mr. Donelson worked as an accountant in Casper and started several small businesses before he moved to Denver and was graduated from Denver Conservative Baptist Seminary with a Master of Divinity degree in counseling and worked as a counselor with churches in Denver. He started his private practice in Christian counseling, which ended in 2008 when he went overseas with Operation Iraqi Freedom and Operation Enduring Freedom, based in Iraq and Afghanistan as a counselor with KBR. He continued his counseling with Military and Family Life Consultant until his death. During his three years overseas, he was able to enjoy travel in many countries, including South Africa, Thailand, Germany, The Netherlands, Austria, Italy, Slovenia, Croatia, and the Philippines.

Mr. Donelson is survived by his brother, Mike Donelson and his wife Charlotte; sister, Shirley Donelson; nephew, Eric and his wife Heidi; niece, Stacey and husband Rob; great nieces, Hailey and Morgan; great nephew, Owen; special friends, Don and Suzy Cooper; many cousins, and many national and international friends.

His parents preceded him in death.

Memorials may be made to the Help for Health Hospice Home, in care of the Davis Funeral Home, 2203 West Main Street, Riverton, WY 82501.

On-line obituaries are available and condolences for the family may be made at: theDavisFuneralHome.com

Services were under the direction of the Davis Funeral Home of Riverton.