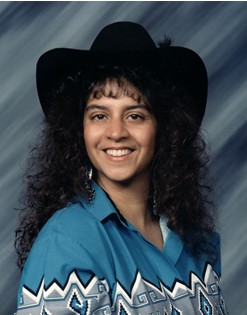 Cricket Mitchell
Jul 30, 1964 - Sep 26, 2011
Cricket Mitchell passed away Monday, September 26th after a long battle with pulmonary hypertension and a short battle with renal disease.

She was born on Thursday, July 30, 1964 to Enez and Georgia Hernandez. Grew up in Riverton with many friends and family.

She graduated Riverton High School in 1982. After graduation she worked for Hamilton Law Firm. Soon after was employed as the court clerk for the city of Riverton. She also worked, as a teacher's assistant until she was diagnosed with her illness and was unable to work. In 1986 she met her husband Tim Mitchell was engaged for two years, July 16, 1988 they were married. She enjoyed social organizations, Riverton Jaycees where she met Tim, Riverton Rendezvous Wild West Carnival where Cricket and Tim were the King and Queen in 2008 and Riverton Railroaders. Also was a Council Women for the City of Riverton.

Unable to have children she loved her nine (9) cats and two (2) dogs also many exchange students, quilt making, camping, and ATV'S. She is survived by her husband Tim; brothers Tom Hernandez and his wife Barbette of Riverton, Philip Hernandez and his wife Kay of Rock Springs; her favorite aunt, Liz and husband Boyd of Colorado; nephews Joe Hernandez, Jon Hernandez, Michael Hernandez and niece, Jamie Hernandez and many aunts and uncles.

Services will be held Saturday, October 1, 2011 at St. Margaret's Catholic Church at 10:00am. Memorials may be made to Pulmonary Hypertension Research through Davis Funeral Home, which is handling the services.