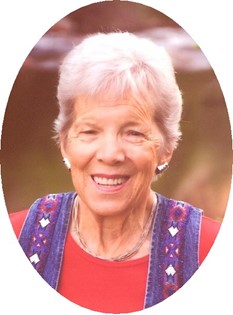 Erna Mae Stephensen
Sep 12, 1931 - Mar 14, 2013
Erna Mae Stephensen, a lifelong Lander resident, died Thursday, March 14, 2013, at Westward Heights Care Center with her sister Frances Patton and friend Marcia Suniga by her side. She was 81 years old.

A memorial service will be at 1:30 p.m. Saturday, April 27, in the conference rooms at the Inn at Lander. Internment at Mount Hope Cemetery has taken place.

Erna Mae Stephensen was born Sept. 12, 1931, in Bishop Randall Hospital in Lander, the daughter of Norwegian immigrant Jake Stephensen and her mother, Ruth, of Kansas. She graduated from Fremont County Vocational High School in 1950.

Her first job was working for the Superintendent of Schools, Helen Petersdorf, for a short time following lung surgery at the Mayo Clinic in the fall of 1950. Albert Tweed, the clerk of District Court, asked her to come to work for him and that began her lifetime career in the clerk's office. She was 24 years old when Vic Dolence was elected to the clerk's position and Ms. Stephensen became his deputy clerk. She was a Republican and he was a Democrat, but they always got along very well.

In 1983, Ms. Stephensen became the clerk of District Court and served in that capacity until her retirement in 1995. She had chosen to be a career woman long before it became popular and was proud of her public service career that spanned more than 44 years. She was always quick to credit her excellent staff for making her job so satisfying for those many years. She also was proud of being one of the first "single" women in the 1960s to quality for a loan to buy her home.

She was always health-conscious and walked nearly every day. She walked the old "tomato loop" for many years and continued to walk, even if it was just around the block, until shortly before her death.

Ms. Stephensen was a member of the First United Methodist Church and prepared communion for nearly 27 years.

She also had been a member of the PEO and a lifetime member of the Fremont County Pioneer Association. Her special pleasure was being an active member of the One Shot Antelope Hunt Club.

She is survived by her sister, Frances Patton; niece Paula Michael and her husband Gary; nephews Stephen Patton and his wife Donna, and Jon Patton and his wife Cathy; the Thurber children Breean Lesko, Beau Thurber and Brittnee Deal, as well as Buzz Thurber and Scott Patton and their children.

She was preceded in death by her parents, Jake and Ruth Stephensen.

Memorials may be made to the First Methodist Church, the Museum of the American West, Amedisys Hospice, or a charity of the donor's choice.

Arrangements are under the direction of Davis Funeral Home of Riverton.