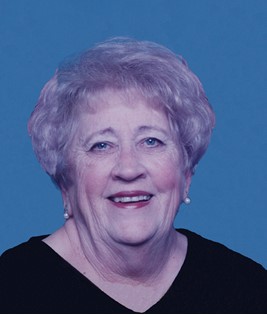 Dessie Holliday
Mar 22, 1934 - Jun 10, 2014
Dessie Holliday, 80, of Riverton, died at her home on Tuesday, June 10, 2014. A viewing will be held at Davis Funeral Home on Friday, June 13, 2014, from 8:00 am to 9:30 am. A graveside service at Mountain View Cemetery will be held on Friday, June 13, 2014, at 10:00 am.

Dessie Pearl Honeycutt was born on March 22, 1934 in North Loup, NE to Everett and Martha (Jorgensen) Honeycutt. She was one of twelve children. At a young age, the family moved to Riverton where she attended schools in Morton and graduated from Pavillion.

On March 1, 1952, she married Herbert Raymond Holliday in Riverton, WY. Together they raised three children.

Together they helped Herb's father on the family farm in Missouri Valley and eventually they bought their own farm in Paradise Valley and ran it until they sold it in 1976.

She was a homemaker while on the farm, after selling she worked for Fremont Radiology and Wind River Pathology.

She was of the Methodist faith and was a Sunday School teacher in the 1960's.

She belonged to the PTA when her children were in school, was a leader of the Tri-Valley 4-H Club in the 1970's and belonged to the Helping Hands Women's Club of Paradise Valley.

Her family said that she loved to pitch horseshoes and she won 2nd place in the World Champion Tournament Class B in 1967 held in Keene, NH. She belonged to the National Horseshoe Pitching Association. The family said that she continued to pitch well into her 70's. She also loved to play softball, keeping score, and cheered everyone on. She was instrumental along with her family in making the sport popular in Fremont County where the softball fields are named after her parents, Everett and Martha Honeycutt. She played into her 40's and continued to support the sport even after that. She also enjoyed bowling, crocheting and reading. One of her biggest loves was her garden and flowerbeds and she took great pride in them. Above all she loved to spend time with family and friends.

She is survived by her daughter, Beverlee Wright and her husband, Kevin of Pinedale, WY; her son Miles Holliday and his wife, Dawn of Riverton, WY; her brothers, Art Honeycutt and his wife, Donna, and Ken Honeycutt and his wife, Joyce; her sisters, Carol Ferguson and her husband, Max, and Carolyn Clark and her husband, Wilmer; her grandchildren, Tera Holliday, Aaron Holliday, Jessica Schell, J.J. Williamson, Ashlee Trujillo, and Mikaela Loveland; her fourteen great grandchildren; her brother-in-laws and sister-in-laws, Larry Holliday and his wife Judy, Ila Petersen, Rosella Petersen, and Tess Holliday; numerous nieces, nephews, and other relatives.

She was preceded in death by her husband, Herbert R. Holliday on January 19, 2014; her parents, Everett and Martha Honeycutt; her son, Rodney "Doc" Holliday; her brothers, Lyle Petersen, Ralph Petersen, Earl Petersen, Gordon Honeycutt and Ronnie Honeycutt; and her sisters, Louise Mariner and Nellie May Honeycutt.

Memorials may be made to Help for Health Hospice in care of Davis Funeral Home, 2203 West Main Street, Riverton, WY 82501.

On-line condolences for the family may be made at www.TheDavisFuneralHome.com.

Services are under the direction of Davis Funeral Home.