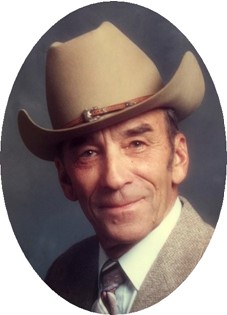 Orville "Orv" Landen
Apr 24, 1924 - Jun 11, 2018
Orville R. Landen, 94, passed away June 11, 2018 in Casper, Wyoming.

A Funeral Mass will be celebrated at 10 a.m., Saturday, June 23rd at our Lady of the Woods Catholic Church in Dubois with Father Jim Heiser officiating. Immediately afterwards there will be a military graveside ceremony, followed by a reception at the Dubois VFW. A visitation and viewing will be held from 4 to 5 p.m. Friday at Our Lady of the Woods Catholic Church.

"Orv" was born in Big Horn, Wyoming on April 24, 1924, son of William O. and Elizabeth (Potter) Landen. He graduated from Big Horn High School before enlisting in the United States Army. He was assigned to the medical detachment of the 253rd Infantry, and served as a combat medic in World War II. He was wounded in action April 8, 1945. He received the EAMET Ribbon, the Purple Heart Medal, Good Conduct Medal, Victory Ribbon, and Bronze Star for bravery. He was honorably discharged on April 2, 1946.

After serving his country, he returned home and went to work for the Wyoming Game and Fish department. He was stationed at the Dubois Hatchery, and it was there that he met his future wife, Donna M. Meckem. The couple exchanged vows on November 26, 1949 and spent the next 67 years together before Donna passed away on March 3, 2016. In the early years they spent time at the Como Bluff Hatchery near Rock River and at the Daniel Hatchery. In the mid-50's Orv quit the Game and Fish and returned to Dubois to help his father-in-law, Lou Meckem, who had suffered a heart attack. Orv and Dan Stevens helped run Lou's Marshall Wells Store until his recovery. Orv went back to work for the Game and Fish department two years later. He worked at the Speas Hatchery near Casper and in 1964 was promoted to Hatchery Superintendent at Daniel. He and Donna loved their years in Sublette County, where they made lifelong friends and raised their three children, all of whom graduated from Pinedale High School. Orv spent 40 years with the Game and Fish, retiring as Supervisor of Hatcheries for western Wyoming. He and Donna moved back to Dubois in 1983 where he finished his career and retired.

Orv loved Wyoming. He and Donna especially enjoyed camping and snowmobiling together in the Wyoming mountains. A great day for Orv was one spent outdoors appreciating wildlife, quiet solitude and scenic beauty. He was an avid sportsman. Friends usually found Orv somewhere above the Line Shack on a four-wheeler or a snowmobile. He was a Lifelong Member of the Dubois VFW #10056, the Dubois Sno-Katers and Sourdough Snowmobile Clubs. Orv was a loyal fan of the Dubois and Pinedale High School teams and enjoyed his annual trips to Casper for state basketball and state track. He knew people from all over the state and enjoyed making new friends. He loved his family and cherished their holiday get-togethers.

Survivors include his three children, Mary Keith of Portales, N.M., Bill (Robyn) Landen of Casper, and Tom Landen of Rock Springs; four grandchildren, Michael (Lacey) Keith, Nick (Tara) Landen, Zachary Landen, and Hailey Rodgers; three great grandchildren, Zoe and Lyla Keith and Lillian Landen; brother, Jerry (Cherry) Landen of Lafayette, Colo.; and numerous nieces and nephews.

Orv was preceded in death by his wife, Donna; his parents; his brothers, Del (Jean) Landen and Wayne (Billie) Landen; and his sister, Beulah Conley (Jack).

Memorials in honor of Orv can be sent to Central Wyoming Hospice or Dubois Search and Rescue in care of Davis Funeral Home.

On-line condolences for the family may be made at theDavisFuneralHome.com.

Services are under the direction of the Davis Funeral Home.