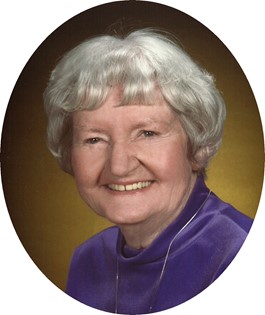 Madeleine "Cissie" Rozier
Jun 3, 1926 - Mar 27, 2009
Madeleine Morris "Cissie" Rozier of Riverton died Friday evening, March 27, 2009 at her home. She was 82 years old.

Funeral services will be conducted at 10:00 a.m., Wednesday, April 1 2009 at St. Margaret's Catholic Church with the Rev. Father Andrew Duncan officiating. A Viewing will be 7:00 p.m., Tuesday, March 31, 2009 at the Church a Rosary will follow at 7:30 p.m.

Interment will take place in the Valle Spring Catholic Cemetery in Ste. Genevieve, Mo. on Saturday, April 4, 2009, 2:00 p.m.

Madeleine Morris was born on June 3, 1926 to Charles H. Morris and Madeleine (Colfer) Morris in St. Louis, Mo. She grew up there and attended St. Louis University, where she received a bachelor's degree.

There she met her future husband, Henry L. Rozier, after World War II. They were married on February 22, 1949 in St. Louis, and then moved to Ste. Genevieve. From Ste. Genevieve they moved to Littleton, Colo., in the 1950's. The family moved to Riverton on January 17, 1961.

Mrs. Rozier was a member of St. Margaret's Catholic Parish and was a great supporter of the church and school.

She was a member of the Red Hats, Breast Cancer Support Group, and the Riverton Council of Catholic Women.

Mrs. Rozier was a volunteer aide at St. Margaret's School and did volunteer work at St. Stephen's Mission.

The family said she was an avid card player and enjoyed reading and needlework. She traveled all over the country to see her children, to Australia to visit her sister-in-law, and to Ireland to trace her family roots.

Mrs. Rozier is survived by three sons, Henri Rozier and his wife Charu Malik of Milwaukee, Wis., Robert Rozier of Washington, D.C., and Michael Rozier and his wife Laura and their children Emily and Danny Rozier of Springfield, Va.; three daughters, Marie Rozier and her husband Dick Laws of Tucson, Ariz., Renee Carroll and her husband Michael and their children Cody, Clay and Cassie Carroll of Dripping Springs, Tex., and Elena Rozier and her fiancé Len Kaisand of Niskayuna, NY; a sister, Marian Matson of Little Rock, Ark., and a sister-in-law Valle Rozier Duncan of Townsville, Queensland, Australia.

She was preceded in death by her parents; husband Henry L. Rozier in 1990; brother Charles T. Morris; and sister Jane Morrison.

Memorial donations may be made to St. Margaret's School, in care of Davis Funeral Home, 2203 W. Main, Riverton, Wyo. 82501.

Services are under the direction of the Davis Funeral Home of Riverton and the Basler Funeral Home of Saint Genevieve, Missouri.

On-line obituaries are available and condolences for the family may be made at: thedavisfuneralhome.com.